Explosion Protection Testing Lab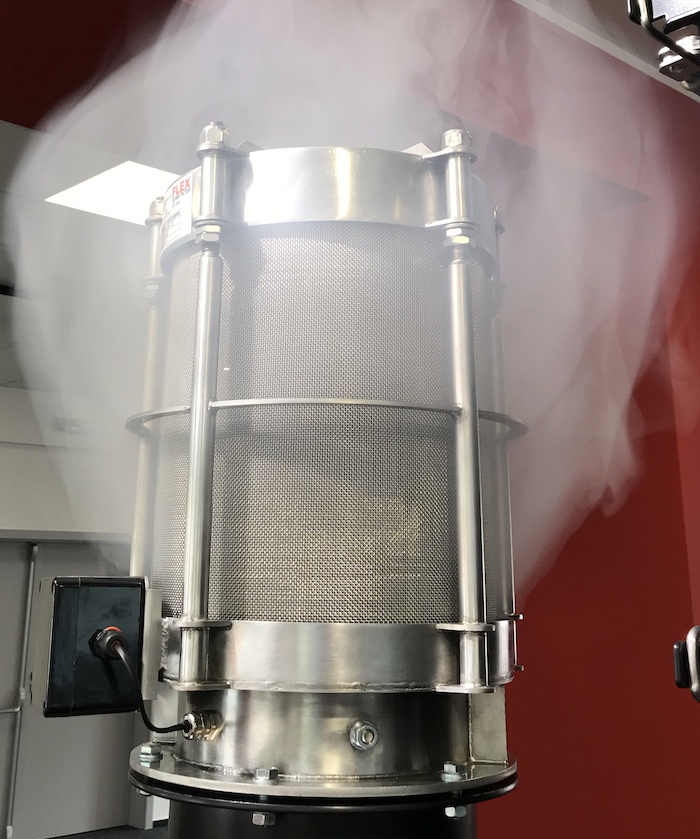 Our explosion protection test laboratory is one of the most modern centers in the world in terms of testing, research and customized activities. This corresponds to the complexity of the equipment, which is constantly being enhanced and modernized.
As part of its core activity, the test laboratory focuses primarily on the behavior of dust-air and gas-air mixtures in connection with the effects of explosions on technologies and their parts.
The test laboratory performs explosion and functional tests of protective systems intended for use in potentially explosive atmospheres in accordance with Directive 2014/34/EU (ATEX) of the European Parliament and of the Council.
Available explosion protection tests
Testing and Training Center Ostrava-Radvanice
Our newly built test center in Ostrava-Radvanice is equipped with pressure-resistant equipment in volumes from 0.4 m 3  to 60 m 3 . This workplace is primarily focused on testing the individual elements of explosion protection according to the relevant technical regulations. These tests include: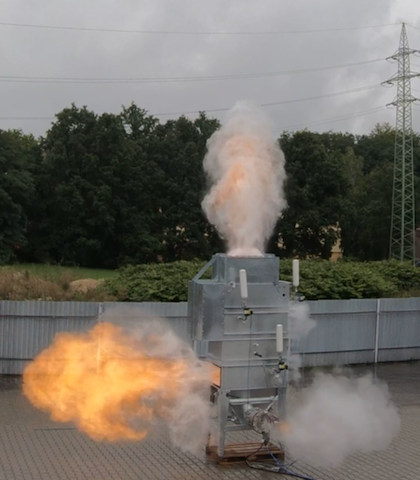 Pressure resistance test of the filter unit
Testing of explosion-resistant equipment
This accredited test assesses the ability of an equipment to withstand the pressure of an internal explosion without compromising its integrity and preventing environmental hazards. This accredited test is performed in accordance with EN 14460.
Testing explosion venting devices
Explosion relief devices are used to protect containers and structures against the main effects of explosion that occur from the rapid combustion of agitated dust, vapor or gas. The accredited test is performed in accordance with EN 14797. Note: A separate technical regulation applies to tests of flameless equipment.
Testing flameless explosion venting devices
Flameless explosion venting devices prevent the transmission of flames to its surroundings. They are used to mitigate an explosion in a situation where there is no acceptable risk of flames due to the mitigation of the explosion. This accredited test is performed in accordance with EN 16009.
Testing explosion suppression systems
Explosion suppression is a technique in which the combustion of an explosive atmosphere is detected in an enclosed or nearly enclosed container and suppressed at an early stage to prevent the formation of harmful pressures that may compromise the structural strength of the container. The accredited test is performed in accordance with EN 14373.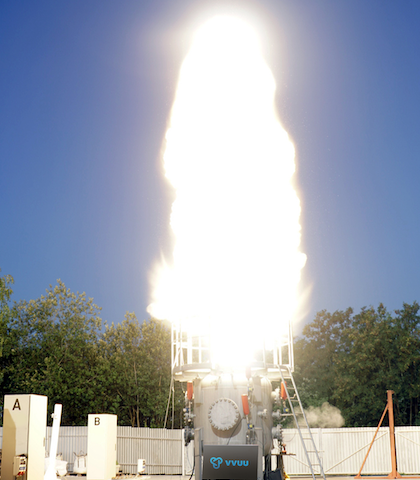 Explosion venting protection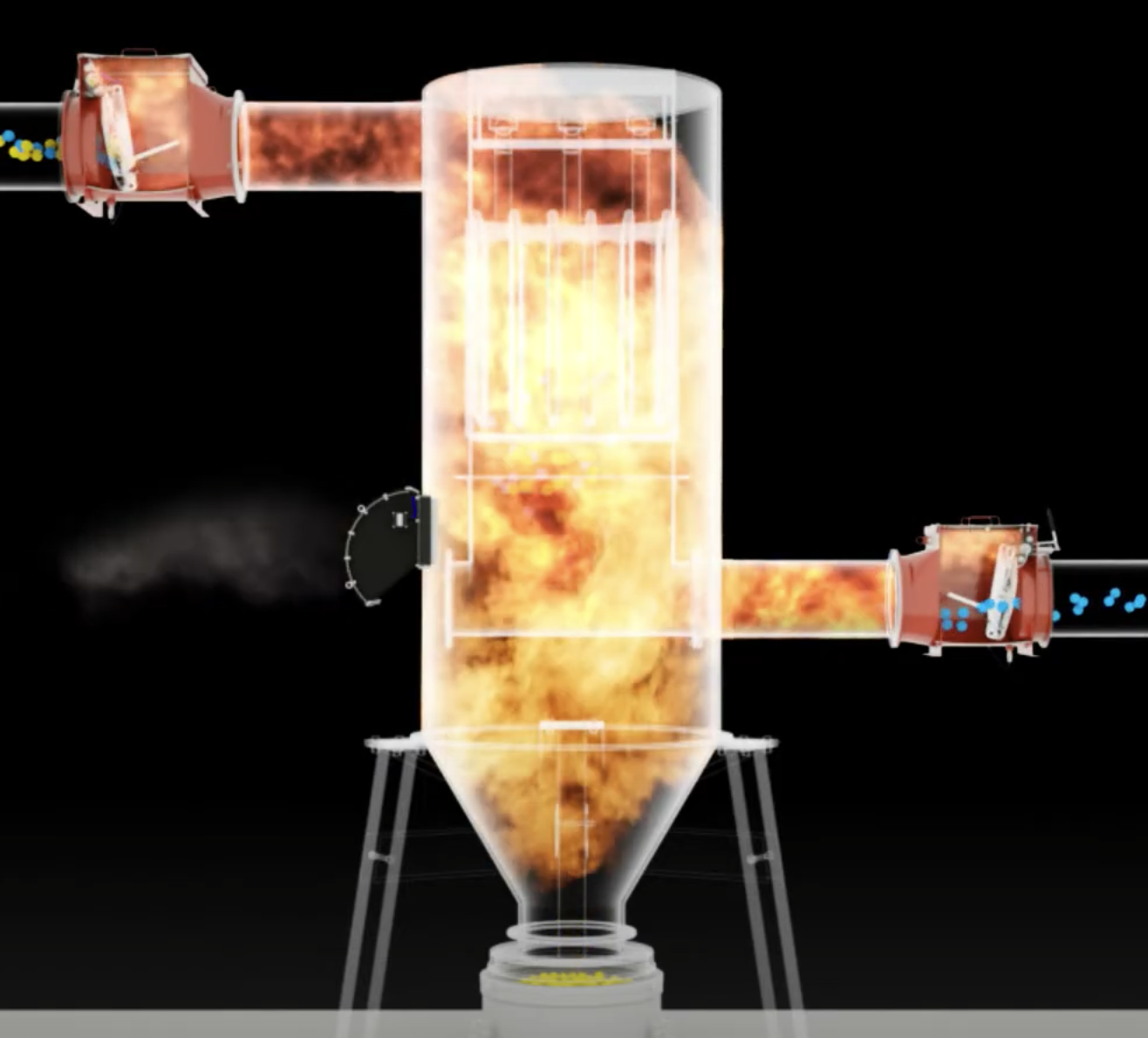 Flameless explosion venting with insulation using check valves
TESTING OF EFFICIENCY AND MECHANICAL INTEGRITY OF EXPLOSION ISOLATION FLAP VALVES
An explosion isolation flap valve is a protective system that prevents the spread of a dust explosion through connecting pipes or tubes to other parts of the equipment or technology areas. The explosion isolation flap valve can only stop the spread of a dust explosion if the explosion propagates in the upstream direction in regular operation. It does not stop the propagation of the explosion in the direction of flow under normal conditions. The accredited test is performed according to EN 16447.
TESTING EFFICIENCY OF EXPLOSION ISOLATION SYSTEM
Explosion isolation is achieved by a protective system that prevents the transmission of the explosion pressure wave and flames or only flames through the connecting pipes or tubes to another part of the equipment or operating premises. It is very important to choose the right system for explosion separation. The accredited test is performed in accordance with EN 15089.
Available explosion protection tests
Remote Test Site in Štramberk
Another workplace of the explosion protection testing laboratory is a unique complex of three explosion tunnels in Štramberk with a length of up to 300 meters, where explosions with real parameters corresponding to mine conditions as well as other technologies with flammable substances can be simulated. The tests performed include:
Testing the effectiveness of explosion-proof enclosures
The test of water (troughs, bags) and explosion-proof dust enclosures preventing the transmission of explosions in mines complies with legislative requirements, where for a defined explosion pressure there must be no burst of explosive flame at a specified distance, at the same time it meets the requirements of the standard EN 14591 - 2.
Pressure resistance test
Testing the pressure resistance of gates, doors, fire doors, windows and covered passages of buildings, stressed by explosion pressure up to 450 kPa, extremely from 0.5 to 1.0 MPa. The test tunnels in Štramberk are used for performing this test.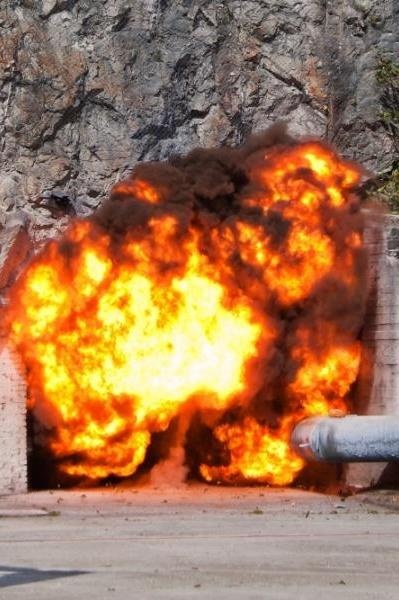 Other activities of the explosion protection test laboratory:
active involvement in the solution of R&D projects, experimental and development activities in areas dealing with the study of explosions and fires in enclosed spaces,
assessing the resistance of buildings and protection systems to pressure and thermal exposure to dust-air or gaseous mixtures, including experimental verification - evaluation of explosion dynamics,
verifying the causes and consequences of an explosion of coal dust or methane-air mixtures,
monitoring explosion dynamics – development and suppression of explosion processes in space of 1D and 2D propagation,
rental of test tunnels in Štramberk.